The Museum of Wooden Sculptures and the Workshop gives particular attention to the educational dimension. Always the sculptor will tour the students both two floors of the museum site with more than one hundred permanent sculpture collection, and the workshop.
Thus students have the opportunity to come together in a traditional yet contemporary art form in the natural mountain landscape in the foothills of Psiloritis.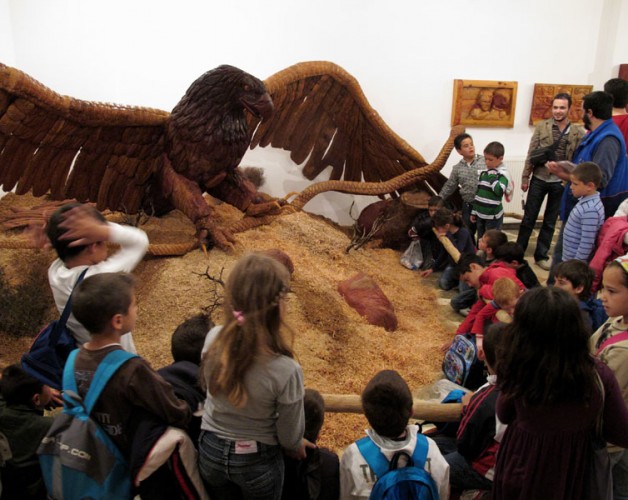 Particular offers the opportunity for a magical journey with many references:
aesthetic and artistic (through the presentation of the art sculptures and the art of woodcarving in the workshop, of the tools, of the smell and texture of wood, the different woods, the ecological concept and the beauty of handmade, the life and creation of an artist and human being from childhood nine years to adulthood and the imprinting of the art, the sense of myth, fiction and 'high', really what that might mean for a child a form of an eagle six metres long does extend beyond the logic, the imagination and the possibility).
traditional (occupations of the inhabitants of Crete and in Greece in a society that is constantly changing, customs and traditions).
folklore (for example, the marking of the animals in the ears).
sociological (family structure, position of the man and the woman) and
historical (for example, inside the trunks of trees that I collected from the Monasteries of Arkadi and Vosakos I discovered bullets from the conflicts of the Cretans with the Turks one hundred years ago), etc. .
The museum is aimed at groups that offer, after consultation, guided tours in English and Greek. Especially for school managers must be closed date and time for their visit.
For reservations, contact the number 6937691387 or e-mail: koutantossculptures@hotmail.com.
The visit to the Museum and the Workshop can be combined with a visit to major antiquities of Axos and other notable places in the region such as the Cave Sphendoni (2 km from the museum, free for schools), the Geophysical Park Psiloritis etc.