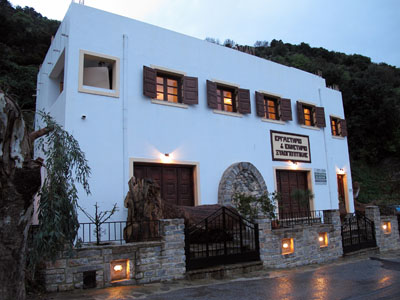 The Wooden Sculptures Museum at the centre of Crete and at the foot of the sacred mountain of Psiloritis is a permanent collection of the sculptor George Koutantos. It works both as a Museum and Workshop and is the outcome of twenty years of involvement with sculpture. The opening of the Museum took place on March 14, 2010.
In Axos Milopotamou of Crete (Greece), within an hour distance both from the city of Rethymno (45 km) and the city of Heraclion (43 km), in a natural landscape, more than one hundred handmade work arts made from a hummer and a chisel are exhibited in a new two-storey building 300 s.m.: Traditional folk formsandthemes(«The Lyre Player», «The Cretan», «The Grandfather and the Grandmother», «Going to the Field» etc.), representationsofnatureandourecologicalsystem(«The Eagle and the Snake», «The Wild Goat»), religious content («The Saint George of Dioskouri», «The Wedding»), social content («The Patient») and from the mythology («The Little Mermaid»).
The visitor has the opportunity to tour the museum and the workshop and find out the aesthetic and artistic proposal, traditional elements (activities of the inhabitants of Crete/Greece in a society that is changing constantly and dramatically, customs and traditions) folklore elements (for example, the marking of the animals), sociological data (the family structure, the position of man and woman), historical evidences (for example, inside the trunks of the trees which were collected from the monasteries of Arkadi and Vosakos I discovered many bullets from the revolution of the Greeks against the Turks), etc. Visiting the museum can be combined with significant antiquities of Axos, which has a continues history of 4000 years, as well as other notable places in the region.
The dimensions of the sculptures are in a natural size, while some of them are presented in bigger dimensions, such as «The Eagle and the Snake» approximately six metres long, «My Parents and I» approximately three metres height, «The Little Mermaid» five metres long.
The timbers were collected from different parts of Crete, mainly dead trees or eradicated from natural destructions. I was born in 1981. I am self-taught and I have been involved with the woodcarving since nine years old.
For information contact the number ++30-6937691387 or e-mail: koutantossculptures@hotmail.com.


Georgios Koutantos or Tsakalogiorgis